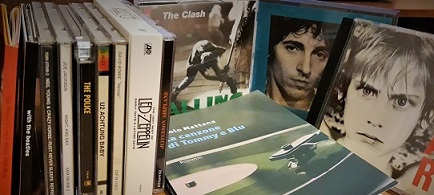 "PLAYLIST" DELLE CANZONI CITATE NEL LIBRO

1. Bob Marley, Is this love
2. Bruce Springsteen, Because the night
3. Bruce Springsteen, The river
4. Carole King, You've got a friend
5. David Bowie, Heroes
6. De Andrè, La canzone dell'amore perduto
7. Eric Clapton, Wonderful tonight
8. Genesis, Horizon
9. Iggy Pop, The passenger
10. Jefferson Airplaine, White rabbit
11. Joe Cocker, With a little help from my friends
12. Joe Jackson, A slow song
13. Joy Division, Love will tear us apart
14. Led Zeppelin, Starway to heaven
15. Luigi Tenco, Mi sono innamorato di te
16. Luigi Tenco, Un giorno dopo l'altro
17. Luigi Tenco, Vedrai, vedrai
18. Neil Young, My, my, hey , hey (out of the blu)
19. Neil Young, The niddle and the damage done
20. Paul McCartney, My love
21. Prince, Purple rain
22. The Beatles, Sgt. Pepper's lonely hearts club band
23. The Beatles, Till there was you
24. The Clash, London calling
25. The Police, So lonely
26. The Police, Message in a bottle
27. The Who, My generation
28. U2, Sunday bloody sunday
29. U2, Until the end of the world

Acquista in tutte le librerie o su amazon, ibs, feltrinelli, mondadoristore.